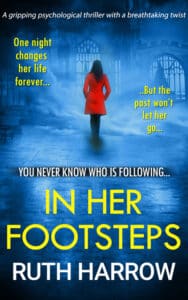 One night changes her life forever… But the past won't let her go…
Harriet is trapped in an unhappy marriage to her abusive husband, Dan. She dreams of a life where she does not have to live in constant fear. One night, she finally summons the courage and makes the life-changing decision to leave him behind for good. She leaves with only a suitcase and a closely-guarded box she is terrified of anyone discovering…
Eighteen-months on, Harriet has her freedom. Or does she? She is living her lifelong dream of running a successful art gallery. She should be happy, but things are not what they appear. Her perfect world is plagued by crippling anxiety and disturbing nightmares. Dark secrets from her past threaten to tear her new world apart.
Why is she so terrified of her own family finding her? Can she ever truly escape the past?
Soon, Harriet will learn that running from her worst fears is a dangerous mistake and one that will have deadly consequences.
In Her Footsteps is a gripping psychological thriller with a breathtaking twist. Perfect for fans of Clare Mackintosh, K.L. Slater, Lisa Hall, Sue Fortin and Laura Marshall.