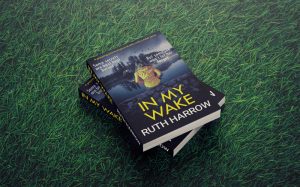 Release Date: 16 July 2020
My new psychological thriller, In My Wake is out now! You can add the book to your Goodreads 'to-read' pile here.
Get it from Amazon now. It is FREE on Amazon Kindle
The past was meant to stay buried…
But someone knows the truth…
Decades ago, the disturbing disappearance of an eleven-year-old girl shook the tiny village Hannah grew up in. Now Hannah receives the shock of her life when she is told her sister, April, has committed suicide. Distraught, she returns to her childhood home for the funeral.
But someone who refuses to forget the past has sickening shocks in store for the grieving family and soon latch onto Hannah instead, leaving her looking over her shoulder at every turn.
Now the nightmares aren't only inside Hannah's head …
The close-knit community is rattled as devastating secrets and unspeakable truths are shaken up and it seems everyone has a secret to hide …
Hannah feels her grip on reality slipping as she starts to suspect even those closest to her – including her husband Will. April had uttered words of warning against him, but was it merely jealousy? Or does Hannah truly have something to fear from the father of her child?
Could the danger be closer to home than she realises?
And why is Hannah's own father insisting that the past should remain in the past?